The meeting of the Senior Council of General Directors and Commanders of the International Association of Gendarmeries and Police Forces with Military Status (FIEP) was held on 8 October 2019 in Noordwijk, the Netherlands 스케치 업 무료. The Dutch Minister of Defence provided the opening address.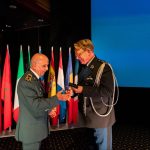 The Summit marked the end of the Presidency of the Royal Netherlands Marechaussee and the handover to the Royal Moroccan Gendarmerie 구글 tts 한국어 다운로드.
(click to enlarge)
During the meeting the commanders and directors were provided with food for thought by handing out the book "Transnational and robust proximity policing: complementary and adaptive" which was written by colonel (ret) Hans Hovens 아이맥 os. Colonel Hovens had drawn upon the input of the FIEP members throughout the year.
During the Summit the Kuwait National Guard and National Gendarmerie of Senegal were awarded full membership of the association 자술서 양식. Both forces joined FIEP last year as observers.
In the upcoming year the Moroccan Presidency will focus on the theme "Social protest management" 윤재성.