The French Ministry of Interior has set new commitments to reinforce the safety of tourists in France:
– Reinforcing the security of the tourist areas (to be implement before summer) and developing European police stations.
– Strengthening security investments in tourist and cultural sites, including performing arts.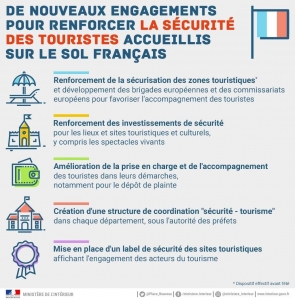 – Creation of a coordinating "safety – tourism" structure in each department, under the authority of the prefects
– A new safety label for tourist sites showing the commitment of the tourism stakeholders
The commitment of the gendarmerie nationale for the summer and tourist period of 2017 will be as followed:
– 14,000 active or reserve gendarmes deployed on all tourist areas in the country.
This represents 80,000 reservist days granted to the gendarmerie from June to September.
All these officers contribute to the safety and tranquillity of nearly 30 million tourists, whether French of foreigners, staying in the jurisdiction of the gendarmerie.