The Guardia Civil assumes the presidency of the International Association of Gendarmerie and Police Corps with Military Statute (FIEP)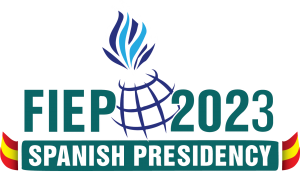 The general director, María Gámez, has picked up the baton for the presidency for the next 12 months
The central theme of the Spanish presidency will be "the impact of a regional conflict on public security in the field of competence of the gendarmic forces".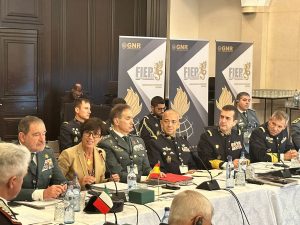 The general director of the Guardia Civil, María Gámez, has assumed the presidency, for the next 12 months, of the International Association of Gendarmerie and Police Corps with Military Statute (FIEP) in the Portuguese town of Sintra. It is the first time that a woman holds this presidency.
María Gámez began by thanking and acknowledging the work of the Portuguese presidency exercised by the National Republican Guard and highlighted "respect for traditional values ​​represented in a gendarmic-type police force".
The general director has asked for a memory for the colleagues of the National Guard of Ukraine, members of FIEP since 2017, to whom she wanted to send "all our support and solidarity, with the hope that a peaceful resolution will be reached as soon as possible, as defended by the United Nations Organization, whose principles govern and sustain the raison d'être of this Association".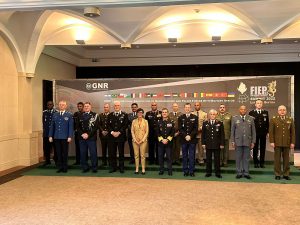 María Gámez, has outlined the main objectives of this presidency that is entitled "The impact of a regional conflict on public security in the field of competences of the gendarmic forces", among which are:
The maintenance and reinforcement of the values ​​that multilateralism contributes to the nature of FIEP.
The use of the lessons learned in the past Commissions.
Compliance with the commitments acquired, especially with regard to being able to anticipate, prevent and respond effectively to possible emerging threats.
The promotion of exchange programs and joint training to better meet the needs.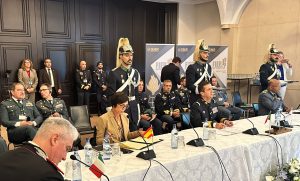 The General Director has also explained that under the Spanish presidency the link between the Iberian Peninsula and the American continent will be strengthened, having bridges and alliances with other police forces of a military nature; our objectives will be aligned with those of the Spanish Presidency of the Council of the EU in 2023; The capacities of the members of the Association will be used to prevent and eradicate cyber-threats and environmental crimes, among others.