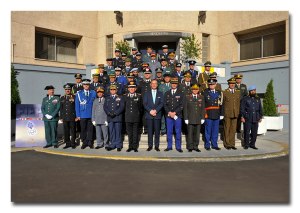 From 28th to 31st October 2013, the Senior Council of Directors/Commanding Generals took place in Madrid (Spain).
All 12 FIEP Member delegations attended the Summit which marked the handing over of the Presidency from Spanish Guardia Civil to Italian Arma dei Carabinieri.
In the same context the Qatari Internal Security Force (Lakhwiya) was granted the status of Associate Member after 1 year of partnership with FIEP as Observer (acquired on 17th October 2012 during the Summit 2012 held in Portugal).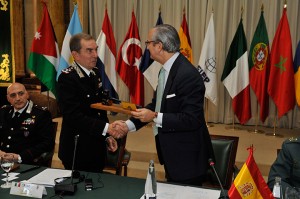 As of 29th October 2013, after the military ceremony end the signature of the Common Declaration (final act which summed up the 2013 Presidency and announced the new theme for the 2014 "The gendarmerie / police forces with military status in international crisis management"), Lieutenant General Leonardo Gallitelli, General Commander of the Arma dei Carabinieri, took over the FIEP Presidency for the year 2014.
At the end of the same day, all FIEP representatives were received by His Majesty King Juan Carlos I at the Royal residence "Palacio de La Zarzuela", in an atmosphere of great cordiality.