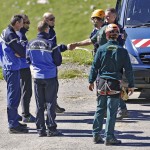 The Belagua sector, in the Navarra region in Spain, was recently the scene of a Franco-Spanish mountain rescue exercise, which gathered 16 Guardia civil and Gendarmerie nationale personnel coming from mountain and helicopter units of Pampelune and Roncal for Spain, Oloron-Sainte-Marie for France.
This exercise consisted in the simulation of an accident involving two climbers halfway of the 1,877 meter-high Spanish peak of Lakora, requiring the intervention of three helicopters. Several techniques and know-hows were trained on this occasion, including the reaction to technical incidents and the helicopter winching of rescuers as well as victims.
Thus, it allowed the different actors to understand the different characteristics and coordination issues of a large-scale Franco-Spanish intervention, which cannot be excluded. Indeed, dozens of rescue operations have already needed the deployment of French and Spanish assets in this border region during the last five years.