The FIEP Preparatory Meeting, was held in Amman, Jordan from 28th – 31st of August , 2017 which was the last FIEP meeting of this year under the Jordanian Presidency, before the FIEP Summit. The main purpose of this meeting was to finalize different matters of interest at the Association's level.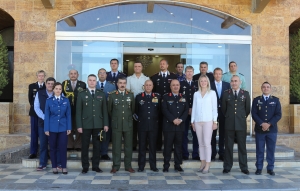 The Preparatory Meeting was opened by Brigadier General PhD Moutasem Abu Shattal, Assistant of the General Director for Logistic Support and Planning, who highlighted many aspects of interest that have been pursued and accomplished under the mandate of the Jordanian Presidency. He stressed on the role of the FIEP Association in term of sharing experiences .
Many tasks were given to the current Presidency, such as the FIEP strategy- evolution of the association, change the name of the Association to "International Association of Gendarmeries and Police Forces with Military Status – FIEP" as well as other important issues.
During the discussions, the forces focused on several aspects, such as:
The outcomes of the Commissions and seminars that took place in 2017, to find the ways ahead ;
The general theme that will be tackled in different reunions during the incoming Presidency;
The Common Declaration to be signed during the Senior Council of Directors/Commanding Generals.