During this event the commitment,

professionality

and full dedication of the twenty institutions belonging to the Association was highlighted, while

maintaining

the respect of traditional values represented in police forces with

miltary

status.
On October 25, 2023, the meeting of the Superior Council of the International Association of Gendarmeries and Police Forces with Military Status, took place in Boadilla del Monte (Spain), culminating the works carried out since October 26, 2022, under the Spanish FIEP Presidency.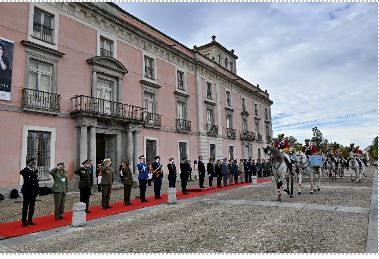 The meeting, chaired by the General Director of the Guardia Civil, Mr. Leonardo Marcos González, gathered a total of 70 representatives belonging to 18 of the 20 Forces that make up the FIEP Association.
During this event, the Presidency reviewed the activities that had been carried out since October 2022, all of them focused on the central theme chosen by the Spanish Presidency "Impact of a regional conflict on public security in the field of the Gendarmerie-Type Forces".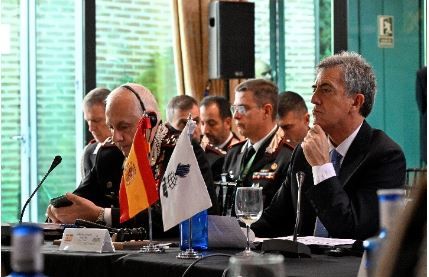 The President expressed his appreciation to the French Gendarmerie Nationale, the Djiboutian Gendarmerie Nationale, the Qatari Lekhwiya and the Senegalese Gendarmerie Nationale, for hosting the four commissions under the Spanish Presidency, which have deeply contributed to mutual enrichment through the knowledge offered by different organizations, cultures, and perspectives, underpinned by the choice of venues for the celebration of the meetings that connected in a very effective and practical way with the chosen Central Theme.
The Commisions organized allowed subject related experts, through the exchange of experience and information, to identify best practices in areas as diverse as education and training, cybersecurity, disinformation and the fight against irregular immigration.
With the signature of the Common Declaration the members of the Association decided to grant the Member status to the Sammarinese Corpo della Gendarmeria, while the General Inspectorate of Carabinieri of the Ministry of Interior of the Republic of Moldova was granted the Observer Status.
After the General Director of the Spanish Guardia Civil handed over the Presidency to the General Commander of the Italian Arma dei Carabinieri, Lieutenant General Teo Luzi, the new Italian Presidency presented the work programme during it's mandate until October 2024 under the central theme "The protection of biodiversity and ecosystems: how the forces of the environment fight against environmental crime"
Following the holding of this Summit, as of October 25, 2023, the association is made up of 20 Members and 1 Observer.