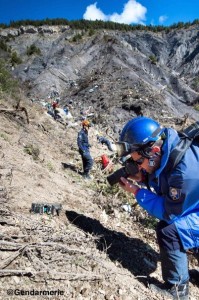 Many gendarmes with specialized operational tools were immediately engaged for the crash of the GermanWings A320 in the Alps.
On March 24th, 2015, at 10.51 am, the disappearance of an A320 plane was signaled at the Operations Center of the Air Transport Gendarmerie.
A helicopter of the Gendarmerie Air squadron of Digne-les-Bains (Alpes de Haute-Provence), with 2 gendarmes of the High-mountain Unit of Jausiers, was sent over the crash zone and discovered the remains of the plane on the mountain.
The General Director of the Gendarmerie Nationale was immediately tasked with the investigations.
Several Gendarmerie capabilities were engaged on this event:
Personnel from the General Direction were posted in the Interministerial Crisis Center activated and led by the Prime Minister, in order to follow and organize the interministerial coordination of the operation.
Under the Commander of the Gendarmerie region of Provence-Alpes-Côte-d'Azur, hundreds of personnel were engaged in the search and rescue operations: high-mountain units, public security and public order units, helicopters, planning and crisis management center…
Highly-specialized personnel from the Criminal investigation Units of Marseille and the Air Transport Gendarmerie led the investigations on this crash, reinforced by forensics technicians from the Institute of Criminal Research of the Gendarmerie (IRCGN) and the Unit of identification of victims of disaster.