On 7 December 2010 the Royal Netherlands Marechaussee organised the special FIEP seminar "Gendarmeries and the security challenges of the 21st century". This was the first of a series of four seminars in which scholars and practitioners were offered a platform to discuss subjects of mutual interest, concerning Gendarmeries. As a result a book with contributions from both scholars and practitioners on the theme of the special seminar was published and presented during the FIEP summit in Rabat on the 25th of October 2011. A digital version of the FIEP seminar book can be found as download at the bottom of this news page.
The book has three objectives. First of all, it collects and synthesises the relevant views of (international) scholars and practitioners, describes and assesses the relevance, potential role (and mandate), and added value(s) of gendarmeries in the 21st century. Doing so, and that is the second goal, the book adds value to public discourse on gendarmeries within the world of academics, practitioners, and policy makers. Finally, this book can be used as a stepping-stone for further international comparative research on the subject of gendarmeries in the fast-growing field of international policing studies.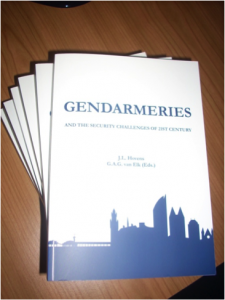 On the 15th of December 2011 the Royal Moroccan Gendarmerie is organising the second seminar of this series with the title "The Security Governance.
The aforementioned proposed topic will hinge on two major components:
Global approach on " The Security Governance";
Contributions of Gendarmeries in the Security Governance.
For more information on this upcoming seminar please contact the Royal Moroccan Gendarmerie by using the contact form elsewhere on this website.
A hardcopy of the first seminar book can be obtained through the Point of Contact of the Royal Netherlands Marechaussee.
Hovens, J.L. and Elk, G.A.G. van (Eds), 2011, Gendarmeries and the Security Challenges of the 21st Century, The Hague. (ISBN: 978-90-817734-0-9)