On May 21st, 2015, the Minister of Home affairs and the General Director of the Gendarmerie nationale inaugurated the new site of the Judicial Pole of the Gendarmerie (PJGN) in Pontoise (North of Paris). Several guests coming from the judicial, diplomatic, police and scientific world were able to discover how the gendarmerie adapts its disposal to the new challenges posed by the various faces of crime.
This high-level scientific pole now groups in one only place all the forensics offices of the French gendarmerie in a high-tech environment.


The Gendarmerie Criminal Research Institute (IRCGN) gathers an international expertise in the field of physics, chemistry, digital engineering, forensics, human identification and genetics. This expertise can be deployed in theaters of operation, in France and abroad, and even in difficult situations such as for the Germanwings airplane crash in March 2015.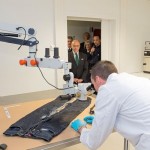 The Central Service of Criminal Intelligence enables the gendarmerie to implement innovative analysis methods of all the data collected by the operational unit, in order to manage and monitor the operational action. This can be done, inter alia, through the predictive analysis tools which were developed.
Finally, the Center of Fight against Digital Crime (C3N), takes in charge the digital aspect of crime, through dedicated capabilities which allow this structure not only to implement complex judicial investigations, but also to coordinate the CYBERGEND network of 2,000 cyber-specialized investigators spread all over the national territory.
Thus, the PJGN will play a major role in the implementation of security policies thanks to a national multidisciplinary laboratory, the development of new criminal intelligence methods, and the reinforcement of cybercrime investigation capabilities.