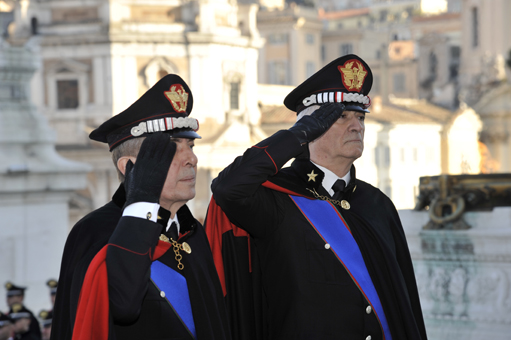 As of 16th January 2015 the hand-over ceremony between outgoing and incoming General Commanders of the Italian Carabinieri, respectively Lt.Gen. Leonardo Gallitelli and Lt.Gen. Tullio Del Sette (see his CV here), took place in Rome at the "Orlando de Tommaso" barracks, the oldest Carabinieri School, where the Carabinieri War Flag is placed. In the event partook the Minister of Defence Sen. Roberta Pinotti and the Defence Chief of Staff Adm. Luigi Binelli Mantelli.
Amongst the numerous political, religious and military authorities, the Minister of Interior Hon. Angelino Alfano and the Minister of Justice Hon. Andrea Orlando participated too.
Lt.Gen. Gallitelli, former General Commander, his successor Lt.Gen. Tullio Del Sette, the Defence Chief of Staff and the Minister of Defence took the floor. The Emeritus President of the Italian Republic, Giorgio Napolitano, the President Piero Grasso and the President of the Council of Ministers Matteo Renzi were thanked. Unanimous sincere gratefulness was forwarded to all Carabinieri, reference point for the entire Nation, who have been granting security and lawfulness for two centuries and that have secured their Colours in that barracks for 120 years. T
At the very end Generals Gallitelli and Del Sette laid two laurel wreaths at the Altare della Patria and at the Memorial of the Arma dei Carabinieri Historical Museum, as a tribute to the Fallen.

[/fusion_builder_column][/fusion_builder_row][/fusion_builder_container]