On 07 December, the European Gendarmerie Force leading body, the High Level Interdepartmental Committee or CIMIN, met in Roma to consolidate one year of activities and pave the way for future challenges. Lieutenant General Tullio Del Sette, Commander of the Carabinieri Corps and CIMIN President, officialised the significant achievement of 2016, including:
–   the continued participation to several crisis management operations: EUCAP Sahel Mali, NATO Resolute Support Mission in Afghanistan, EU Training Mission in Central African Republic…
–  the first EUROGENDFOR steps toward EU projects management and support to EU field security;
–  a cooperation framework with the United Nations and its Department of Peace Keeping operations (DPKO);
–  the imminent deployment of an expert team within MINUSMA in Bamako;
–  growing cooperation with the Organisation for security and Cooperation in Europe (OSCE);
–  the signature of the Trilateral Cooperation Arrangement consolidating the rise of a stability policing hub in Vicenza, combining 3 key players in this field: the EUROGENDFOR Permanent Headquarters, the NATO Stability Policing Centre of Excellence, and the UN oriented Centre of Excellence for Stability police Units (CoESPU).
At the end of the dense meeting, Lieutenant General Del Sette officially handed over the CIMIN Presidency to the General Director of Spanish Guardia Civil, Mr. José Manuel Holgado Merino, who will guide it for the next year.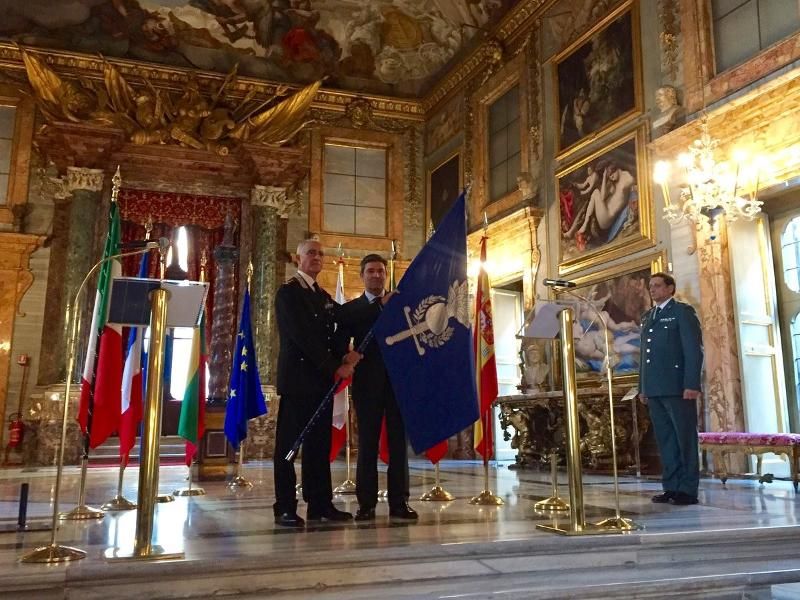 The Commander of the Italian Carabinieri Corps officially hands over the EUROGENDFOR flag to the General Director of Spanish Guardia Civil