The Human Resources Commission (HR) took place in Amman, Jordan, 28th and 29th of November 2017. This was the first reunion of the FIEP forces under the Jordanian Presidency. The HHRR Commission was opened by Major General Hussein Al-Hawatmeh, the General Director of Jordan Gendarmerie Forces in presence of Brigadier Walid Qashha, Assistant of the General Director for Operations and Training.
During the meeting different issues have been discussed such as the FIEP strategy- evolution of the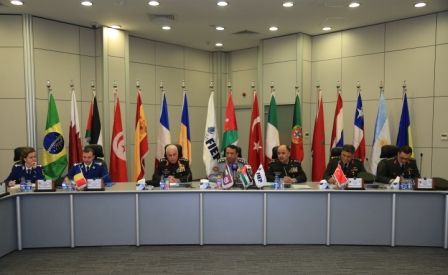 association as well as other important issues. Also, many presentations have been delivered, all the presentations were in accordance with this year's general theme "Migrants  Crisis – Balance  between  protection of  migrants  and  national  security"  in term of human resources  perspective."
The discussions focused on different aspects of common interest in the field of Human Resource Commission, such as:
–    The harmonization between the national security of Jordan and the rights of refugees
–    The impact of Syrian Refugees on the Jordanian National Security
–    The Impact of Irregular Immigration on the European Security
–    Human Trafficking and Human Smuggling and how to develop training programs to fight the trafficking of human beings along migration routes
–    The New Jungle » of Calais: The Dismantling of the Migrants Camp
–    Balancing Protection of Migrants against National Security
–    Managing the migration phenomenon in Romania.