On May 24th and 25th, 2016, an international seminar on police at sea gathered the 14 FIEP gendarmerie forces in Toulon.
This seminar was opened by lieutenant-general David Galtier, Commander of the Provence-Alpes-Côte d'Azur Gendarmerie Region and the Gendarmerie for the Southern defence and security zone, and Vice-Admiral Yves Joly, Maritime Prefect of the Mediterranean sea. It aimed at developing and reinforcing the cooperation between the 14 FIEP forces in the field of maritime and port security. Centred on the fight against terrorism, illegal migrations and trafficking at sea in the Mediterranean area, it gathered the FIEP experts as well as several French and EU specialists.  The works were declined around four themes:
the threats posed to the Euro-Mediterranean area;
the courses of action and means developed to fight these threats;
the examples and possibilities of operational cooperation between FIEP forces;
and the possible creation of a FIEP maritime specialists network.
In addition to the seminar, static and dynamic presentations were set up by the sea and air units of the French gendarmerie. The specific know-hows of these units were displayed, in particular through their operating courses in case of an intrusion in a Navy base.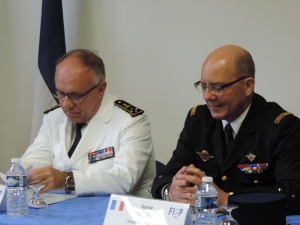 These works allowed the FIEP members to share fruitful exchanges on a topical subject, all the more since the Mediterranean area has become the cornerstone of several criminal phenomena which have a direct impact on the security of the countries on its shores.