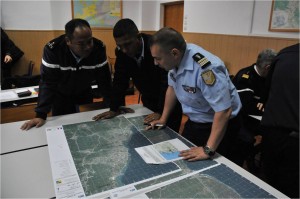 The UN Department of Peacekeeping Operations has just awarded the certification of High-level International Course (HIC) organized by the Romanian Gendarmerie at the Application School for Officers in Rosu.
This certification, which is the result of a long process and of the work done by all the stakeholders, recognizes the quality of the teaching delivered during the 14 weeks of the HIC and testifies its compliance with the pre-deployment standards in UN missions, guaranteeing its credibility and attractiveness.
The HIC project, which is led by the Romanian and French Gendarmerie, provides a French-language training to senior security forces officers coming from European States and other partner States. Oriented towards peacekeeping and international security cooperation issues, this course also deepens the knowledge of the participants in the field of the conduct and operational planning of missions of democratic crowd control management in the UN-type international headquarters.
At first, the course aimed at the staff training of officers from Romania, France and Eastern Europe countries, but the geographic area of participating countries has grown. Therefore, up to the present, within the 12 HIC promotions, officers from 24 countries on 3 continents have been trained, as follows: Albania, Algeria, Armenia, Bosnia-Herzegovina, Bulgaria, Czech Republic, China, Croatia, France, Georgia, Jordan, Macedonia, Madagascar, Mali, Morocco, Moldova, Montenegro, Poland, Romania, Serbia, Slovakia, Türkiye, Ukraine, and Hungary.
Since 2012, a close cooperation has also been established with the International Organization of the Francophonie, which provides the entire funding for the participation of trainees from French-speaking countries in Africa.
The course benefits from the expertise of lecturers from Rosu Application School and from the Romanian Gendarmerie who participated in peacekeeping missions, as well as experts from other countries (France, Italy, Türkiye, Germany). The theoretical training is completed by observatory missions, either in Romania or in France, to discover the units and structures which work in the field of security cooperation.
This project demonstrates the quality of cooperation established between the forces from the countries involved, including the FIEP forces, at the various steps of their personnel's training.
Signed by the Assistant Secretary-General for Peacekeeping Operations, Mr. Herve Ladsous, this certification, valid until April 2019, will adorn the diplomas of the HIC 13th session which begins in September.